Regular price
Sale price
$36.00 USD
Unit price
per
Sale
Sold out
Keromask London Camouflage Cream Light No 1 is an ultra-highly pigmented and extremely concentrated full-coverage concealer for disguising various common skin problems.
Keromask London is imported from the UK to the US. Celebrity Makeup Artists love Light No 1 for porcelain skin tones.

Please note: Light No 1 is NOT the original Light. Light No 9 is the original Light. Light No 1 is an extremely fair, porcelain color perfect for those Snow White complexions.

Available in 15ml/.50 ounces Tube
How To Use

Powerfully concentrated, just a small pin-drop of Keromask is all that's needed for many kinds of skin discoloration coverages. Generally, one thin smoothed layer is sufficient coverage for most situations.

Everyday make-up can be applied over a sealed area of Keromask without disturbing it. Keromask is waterproof, smudge-proof, and heat resistant when used with the finishing powder and can also be worn when swimming or playing sports, and just one application can last up to eight hours, providing you with effective coverage throughout your day.

Keromask should never be applied to open lesions or unhealed scar tissue. Keromask is NOT TESTED on animals and does not contain animal derivatives. Keromask is Fragrance-Free, Hypo-Allergenic, and contains no sunscreen.
Ingredients

Parrafinum,Liquidom, Petrolatum, Lanolin, Ozekerite, Lanolin Alcohol, BHT, Propelyne Glycol, BHA, Propyl Gallote, Citric Acid. May contain: +/- Talc, CI 77891 (Titanium Dioxide), CI 77491, CI77492, CI77499 (Iron Oxide).
Share
View full details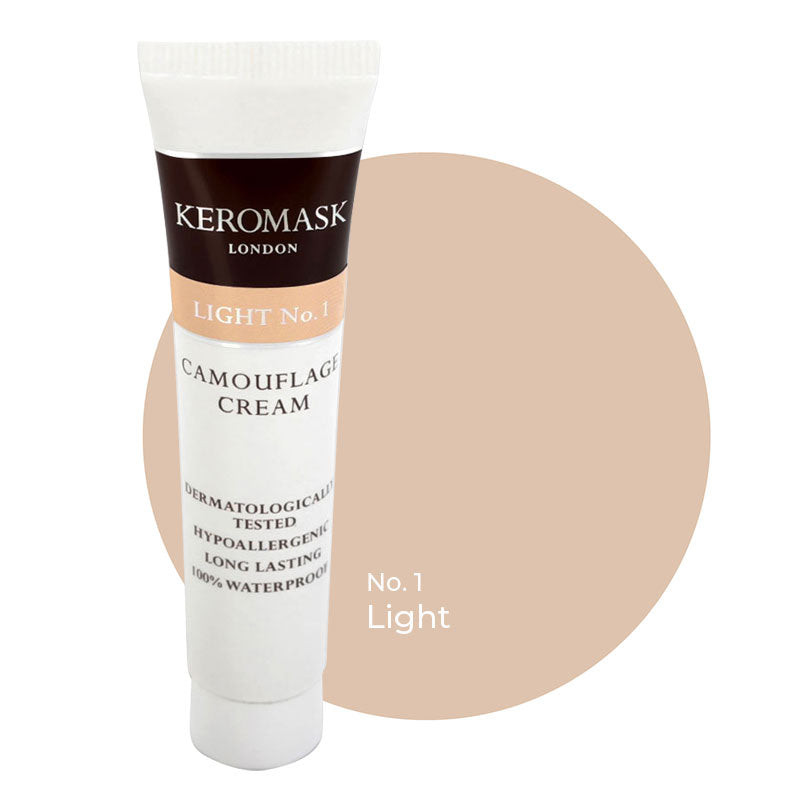 Happy Ending
After a difficult start receiving a color that was not right, or as my wife felt was comparable to the pallet online, Lisa stepped up and handled everything. My wife is very pleased.
I've used this product for years and still love it! Yes, keep my information private.
I've used this product for years and still love it! Yes, keep my information private.
Extremely disappointed with the color
The color is way too light. I need the next shade darker. I have purchased Keromask camouflage before, but the color was not as light. The color does not look like that depicted in the online add for the product. Thus, the online advertising of the color is deceptive. Thus I am extremely dissatisfied with the purchase. The cost of the Keromask tube is substantial, and the online depictions of the product should match the true color.
Carole
Thank you so much for your honest review of Light No 1. I am sorry to hear that you feel that our online advertising of this color is deceptive. We mention in our product description for Light 1 that it is not the Original Light and we have a link that takes you to Light 9.
Color matching is challenging online. That's why in addition to our color swatch, we offer a custom sample package so you can try before you buy and it also comes with a discount towards a purchase.
Since you mentioned that you were looking for the original Light (which is now Light 9) it's important to mention that the new color range was introduced in 2011. This means that any tube indicating Light would be at least 11 years old as of today's date. Depending on how you stored your Keromask tube over the past 11 years it may have become exposed to elements which could also have affected the original color you initially purchased. That's another great reason to try our sample package prior to selecting a color.
Thank you again for your review.
Keromask #1
I have been using this product as an under eye concealer for years! Works wonderfully - just put a dab of moisturizer and a dab of Keromask (very small amount) on the top of you hand, mix together and apply under your eyes - VOILA!
Voila!! Exactly! Thank you for your review and also for the tip about adding moisturizer. I have many clients who use Keromask with their favorite moisturizer for an all over tinter moisturizer!!